Creating a sitemap for your website can be a top SEO strategy. Whether you own a new or old website, you need to scale up your positions in the search results to attract more clients. However, if you have errors in your sitemap, you may face troubles when indexing your content. One of the most common is the 3xx error. If you check your sitemap and realize that you have this type of error, you need to know how to fix it.
In this article, you are going to learn what a 3xx error is and how to fix it. It is important to solve this issue since you need to have a clean sitemap to get your URLs indexed. Otherwise, your website may see a decrease in traffic while what you need is to attract more clients to your business. Let us observe the following points:
What is the 3xx error?

Why is this issue important?

How can you fix the 3xx error in your sitemap?

How can Digitizengrow help you with SEO services in the UAE?
1. What is the 3xx error?
Whenever you audit your site or check your sitemap, you can see if you have any issues. By detecting them, you can improve your ranking in the search results. This is because search engines will be able to crawl and index your website effortlessly, and thus, your site will be considered trustworthy.
The best part is that detecting issues on your website is easy. If you use a specialized tool, it will show you the top problems you have to solve. However, if you cannot access a 3xx checking tool, you may want to rely on a third party that provides this service. Note that when you do this, you should also look for the best prices.
In this case, you will see that you have a 3xx error in your sitemap, just like in the following image:

Before learning how to fix the issue, recommend that you understand what it is.
1.1 3xx error in your sitemap
You can create your sitemap with the help of a developer in your team, or you can use a plugin or a tool to create one automatically. Either way, you will have to include all of your website's URLs in it. But, you have to make sure to include those that you want to get indexed. You can include and exclude URLs depending on your SEO strategy.
Perhaps you created your sitemap long ago, and you have updated certain pages of your site. And, you have included redirections, which in some cases are harmless for your site. But, when it comes to the sitemap, you have to check this since it is not advisable to have redirections. This is because search engines consider 3xx errors as "dirt" on your website. For this reason, you may see the 3xx error warning whenever you are performing your website audit.
A 3xx error refers to a URL that is included in your sitemap, but that returns an HTTP "redirect" status.

1.2 What triggers the 3xx error?
A 3xx error will appear whenever one of the URLs on your sitemap returns a redirection (3xx) HTTP status code. It can be just one URL or it can be several of them. It is a very important error because it can affect the success of your site regarding SEO.
It is even worse when you have multiple redirects, because search engines will classify your site as non-trustworthy, and this can be detrimental to your ranking and the effectiveness of your strategy.
Some of the reasons why this error comes up are the following:
The link of the URL is not linked properly or the URL is broken

Your custom code has a problem and you have not realized it before

You updated the URL of an old page and now the links redirect to another one

There is confusion in the search crawler because your sitemap has the old and new addresses of the page
2. Why is this issue important?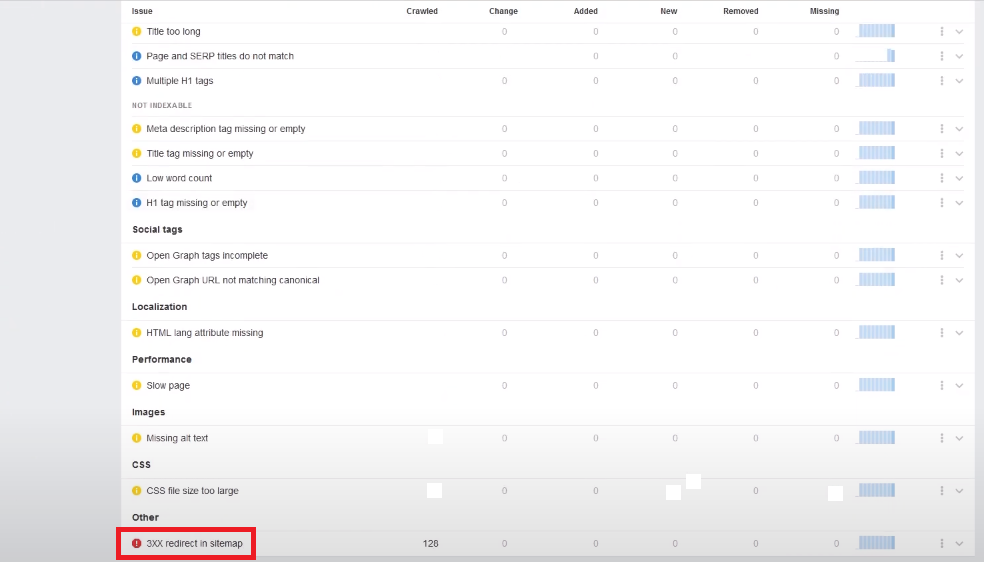 In case you realize that there is a 3xx error in your sitemap, you need to fix it immediately.  According to Google, website owners should not include URLs that have redirections in their sitemap.
Many website owners wonder if redirected URLs should be avoided or if they are not detrimental. But, the truth is that you cannot have them in your sitemap because it has been proven that they are not good for your SEO.
First of all, you have to include in your sitemap the URLs that you want to be indexed. Keep in mind that search engines use your sitemap to know more about your site. Your sitemap has to include the pages that you want them to crawl and index. Moreover, search engines use sitemaps to select canonical URLs.
For this reason, redirections can be very detrimental to your site since it sends a misleading signal. Search engines should index URLs that return the OK response code (200). But, when any of your URLs redirect to another URL, it appears the 3xx error code.
2.1 Why do you need to fix the 3xx error?
Here are some of the reasons why it is important to fix the 3xx error:
Your sitemap should contain only those URLs you want the search engines to search and crawl

It is important to submit clean sitemaps (i.e. those that only have the 200 HTTP status)

Your sitemap must have URLs that are indexable, unique, and canonical to improve your SEO

3xx errors are considered "dirt" in your sitemap. If they find it, the search engine will stop trusting your site in relation to crawling and indexing signals

Some search engines have a percentage of allowance for said "dirt". In some cases, it is only 1% of the allowance. If the search engine finds a level of "dirt" of more than 1% they lose trust in the sitemap
2.2 How can 3xx errors affect your website?
Perhaps you have seen the 3xx error on your WEBsite, and you have no problems with redirections. However, you should fix the issue as soon as possible as it causes indexability issues on your site.
It can decline the traffic to your website

It can lead to indexation problems

By not fixing 3xx

errors they can eventually lead to 404 errors
3. How can you fix the 3xx error in your sitemap?
Once you have detected a 3xx error in your sitemap, you need to learn how to fix it quickly. You must take all actions to ensure your URLs return the OK response code of 200.
Here are some strategies you can apply to solve the issue:
3.1 Check your URLs
You can use a third-party tool to check if any 3xx error is included in your website. These are great for detecting easily and taking action to solve the issues that may appear. For example, in the following image, we see the URLs that return the 3xx error. As you can see, the URL has a redirect to another page. In this case, the HTTP status code is 301, which is one of the most common ones.

If you do not have any tool that can help you detect which URLs are returning the 3xx error code, then you will have to check them manually. You could download the sitemap of your website and check each line using a filter to determine if they have a 3xx status code.
Another option can be to check manually each URL. However, this can be tiresome, particularly if your site has several URLs. It is worth noting that there are several 3xx errors. They are classified into several, such as 301, 302, 304, etc. So, whenever you check them, you have to see if the error starts with the number 3. In that case, it is classified as a 3xx error, and it is related to redirection problems.
In case you do not know how to check 3xx errors, and you do not know which tool to use, you can always opt for a website audit. This will help you detect any issues that may be happening on your website. Moreover, you will be able to solve them immediately.
3.2 Replace redirecting URLs
Solving the 3xx error is easier than you may think. You just have to clean your sitemap by removing all URLs redirecting to another page. Here is what you need to do:
Delete the URLs that return the

3xx error on your sitemap

Replace the deleted URLs with the destination URL
If the destination URL is already included in the sitemap, you do not need to include it again. You just simply have to remove the old one.
By doing these two simple steps, you can easily fix the 3xx issue in your sitemap. Make sure to submit your updated sitemap, so the search engine can now index your site properly. This will help you solve the problem and start boosting your site.
3.3 Look for help
In case you have tried to solve the issue but have not been able to remove all the 3xx errors in your sitemap, you may have to receive additional help. It is best to look for a great SEO agency that can help you solve the issues with your website.
However, since there are many agencies in the UAE, you need to look for the best one. You need to know how to choose an SEO agency that can work alongside your business while ensuring success with the strategies.
On Digitizengrow, we offer you our team of specialists to help you solve your site's issues. With us, you can have an efficient website for your company where you can showcase your products and services, while it functions according to the requirements of the top search engines.

4. How can Digitizengrow help you with SEO services in the UAE?
On Digitizengrow, we want to provide the best assistance to our clients. Having a solid online presence is a must if you want to succeed in this competitive business world. For this reason, we can help you solve any issues you may have with your website with our website audit service.
We can quickly check if your URLs return the 3xx error and fix them on your behalf. Our goal is to work hard to take your website to the next level. Moreover, we also offer our full suite of SEO services in Dubai. You can expand your business confidently while we ensure more website traffic, an increase in conversion, and better placement.
We are your number one choice if you are looking for the best digital marketing agency in the UAE and with our assistance, you can take your brand to success. You can learn more about us if you wish to partner with our team, working side-by-side with top marketing experts.
Would you like to get assistance with your SEO strategy? Our team of experts can address any extra concerns you may have regarding our services. You just have to call us at +971 43 316 688, and we will be ready to assist you with everything you may need. On the other hand, you can send us an email at contact@digitizengrow.com to find out more about our services, packages, and pricing.