Our Graphic Design focused on your business, creating new experiences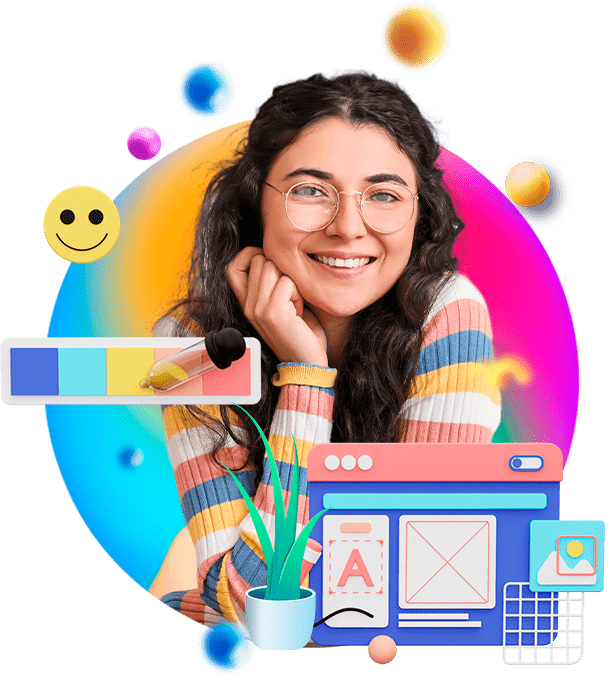 We manage graphic design services providing you with outstanding identity and logo development, brand discovery, rebranding, brand positioning, business card design and corporate stationery, flyer, and leaflet design. In addition, by clearly understanding your role, identity, and goals; we connect your brand with the mind of your customers. As a result, they will be more likely to trust you and become your recurring customers. The first step in any of our branding or graphic design solutions is a clear and thorough assessment. Firstly, we establish a SWOT (Strengths – Weaknesses – Opportunities – Threats) research of your brand to identify the internal and external factors of your organization. Subsequently, this will allow us to identify key areas of improvement.
The more you know your potential customers and audience, the better you can position your company. Moreover, knowing crucial information about your target audience in the UAE will allow you to customize your business to meet your needs on common ground. This is crucial for digital branding.
To reach your right audience in the UAE, on the other hand, you must know their interests, demographics, needs, and where to find them.
On Digitizengrow, we conduct quantitative and qualitative research to gather important information about your audience to understand them better. After that, we analyze the resulting data to create a solid strategy on how to present and position your brand through graphic design, logos, and brochure design in the seven emirates.
To stay ahead, graphic design has become an important aspect of every brand around the globe. It is not possible to generate positive leads if the potential customers do not grasp what your business is doing. Likewise, there are different ways to deliver your desired message. We will focus on the types of graphic design that influence audiences.
Get Free Consultancy for 30 mins with our Experts
Design and development for your business
Graphic design is an art where we create visual content to communicate a certain message. However, different cultures and countries may require different approaches. That is to say, if you are wishing to conduct business in the UAE; skillful and professional graphic design services will assist you with the best graphic design solutions to improve your organization. In short, our outstanding design is a fundamental part of creating branding and graphic. Therefore, we believe it is crucial to involve you through the entire process to keep you updated and also to be in the same line with your objectives and requirements. As a result, this method streamlines the process as we work on the final product.
We create various brochures and mock-ups for you to choose what you like. Whether it is creating a brand strategy from zero or an entire process for your organization with a new business brochure and logo; we will take care of your requirements with the best graphic design services in the UAE.
However, the graphic design process does not end after we deliver your desired brochure, brand design, or logo. It ends after revisiting your initial goals and comparing them with what you have. In addition, when we use metrics, we determine the success of your business graphic design and continue to provide you with services based on your suggestions before delivering the entire product to you.  
We are a team of passionate developers, web designers, and webmasters. By having an experienced team of new social media platforms, we can deliver a scalable; engaging, and exceptional product with a unique aesthetic. For an all-in-one solution for all your requirements, we adopt a straightforward method to ensure a seamless delivery of your requirements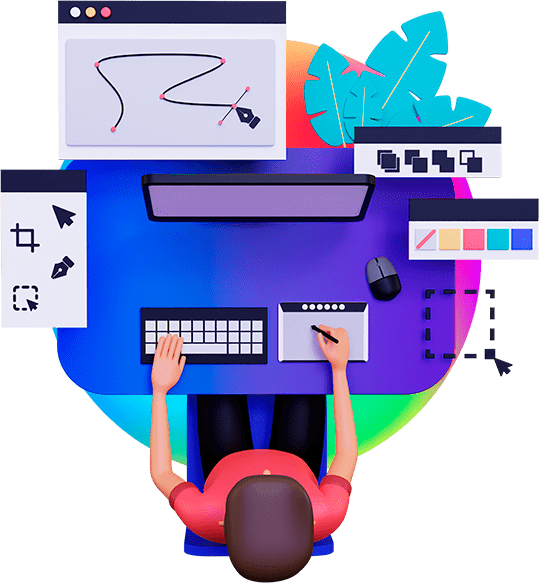 On Digitizengrow, our main goal is to display your information harmoniously; ensuring that usability and beauty go side by side. Therefore, your designs can carry your business ideals to your users. When you establish a trustworthy visual aspect, you will conduct users knowing what they want to do.

Not because you have placed aesthetically pleasing elements that are rightfully located, but because the values your design has go hand in hand and mirror theirs as well. In short, your visual content will rapidly determine if your company will be successful or not; so, ensure you get access to outstanding UI and UX design services.

For example, if a pleasing mobile application cannot offer its users what they need with few thumb clicks, the designer has failed to put into practice graphic design for the user's experience. Most importantly, the scope of user experience (UX) covers the creating of aesthetically beautiful designs that users find meaningful, usable, and highly pleasurable.
Although working in digital marketing means you must design with interactive software; graphic design is still linked to age-old processes. It is crucial that you have the right presentation to users from their first glance, therefore, graphic design is connected deeply to emotional design.

As a top digital marketing agency in the UAE, we have a deep understanding of color theory and how important the right color scheme choice is. As a result, color choices must reflect your organization as well as your customers' expectations. We also design with an eye for how elements set the right tone.

Similarly, we design for the overall effect while having in mind how you want to shape your customers' emotions as you guide them. For example, a landing page to a call to action.

We often act as motion graphic designers for smaller screens. That is to say, we will monitor how your aesthetic matches your users' expectations. We will also improve your designs' usability in a seamless and flowing experience by anticipating your users' mindsets and requirements. And with psychology in mind, it is crucial to stay focused on certain graphic design considerations.
Branding is like an invisible area that links every separate region of your organization. Therefore, it allows you to grow and morph by using different graphic designs while remaining the same.
You consume printed products on a daily basis. You see flyers pinned around the country while we wait for our morning coffee. We create this content for you.
We recommend that you begin here before you start advertising, building a website, or producing anything; have a logo.

Content writing and development
Writer's block is real. Usually when you create a print product, but when you write out your solutions or mission statement, it may not go as expected. This is why we take care of this process.
Work with the latest technologies and methodologies
Staying updated with the latest trends when it comes to graphic design is crucial for SMEs, startups, and large organizations. For instance, the retro trend is amazing when retro is your desired look, but accidental retro (because you are outdated) is insufficient to meet your clients' expectations. We do not want you to stay outdated by using a methodology that will fade into irrelevancy. On Digitizengrow, we help you remain adapting; we will put you in a place your designs will be relevant, current, and suit both your requirements and your customers'.

Why

Wait

reach

us

out

now!