The best design and development solution
Companies wishing to succeed in the modern business world must put the customer experience as the cornerstone of their operations. This is true for organizations offering digital products or services, where users have massive alternative options at the tip of their fingers. That is why UI and UX design is so important in today's business environment.
With our outstanding web design services, you will obtain outstanding user experience solutions for your business. In addition, this process ensures you enjoy the experience of going from point A to point B. On the other hand, the user interface (UI) ensures that the device screen visually establishes the way to get users from point A to point B without issues.
Our UX/UI designers evaluate and create a product rich in simple or complex design; providing UI design solutions and wireframing as well as testing and prototyping.
On Digitizengrow, we have a complete understanding of UI and UX design as well as an understanding of how design and user matters correlate in the process. It does not matter what your business is currently offering; we will provide you with outstanding web development, landing pages, mobile applications, and responsive web design, taking your business to the next level.  
Having an impressive UI goes beyond having the attention of your user. It consists of a perfect combination of creative UX and building an outstanding business branding. Most importantly, all businesses must focus on creating the best UX and building a clear brand.
We offer you the best website development and UI/UX in Dubai and the UAE. Similarly, we understand how important it is to create a user-centric design and the importance it will have on your user experience. In addition, ensure that your user experience becomes the main part of our website layout and development process.
The

role

of

UX

and

UI

design

in

the

development

process
We have great experience providing SEO digital marketing and web services to many brands across the UAE. One of the most important things we have learned over these projects is that customers put the same importance on a storefront or website and the quality of your brands' services and products.
It does not matter the quality of your services and products. Or the SEO strategies that draw users to your website; if you do not offer a captivating, inviting, and user-friendly experience, your conversion rate will not grow.
Just like people are more likely to go and visit physical stores that are organized, easy-to-navigate, customer-friendly, and neat; websites offering an engaging user experience and clean user interface improve massively the chances of pulling in potential customers and making sales.
Before we continue, it is important to differentiate between UI and UX, two areas that are often confused; probably because they work closely and the similarity of their acronyms.
In short, UI refers to the website design and the creation of the interface, which is developed using languages such as HTML, JavaScript, or CSS.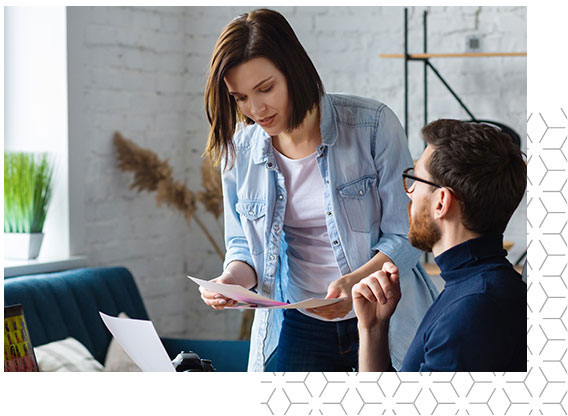 On the other hand, UX focuses on usability; specializing on social relationships and analysis. We focus on the design of your product, impacting the visual impression of your users. This is determining to ensure if the website or app is to their liking. In addition, we will take care of the UX, the responsive design, and its easy navigation and usability.
Another way of saying it is that UI is responsible for the visual aspect of the interface. Whereas the UX focuses on ensuring the performance and actions done by the user are consistent. The UI is responsible for determining the user's path, while UX focuses on the actions and processes that trigger the use.
Services
On Digitize & Grow, we have your visual needs covered
We will smoothly integrate into the web design and development to take your website services to the next level. In the same vein, we have comprehensive experience designing both consumer apps and complex B2B solutions. As a UI and UX and web development company, we will follow the latest trends while working side-by-side with you.
In addition, we will work hard to come up with an effective UX/UI solution for android, iOS, and android. Whether you need a web application development from scratch or an upgrade for an existing project, our creative team will ensure you meet all your objectives.
We choose the best set of techniques and tools while applying our extensive expertise in UI and UX solutions for your desired results.
On Digitizengrow, we also specialize in designing and creating complex interfaces for innovative web services as well as user experience services. We will also provide you with a final product that is user-friendly, convenient, and has an intuitive UI and UX; following the best practices in accessibility, compatibility, and usability.
Get

access

to

the

best

technologies

in

the

UAE
One of the main challenges in creating an outstanding favorable user experience in a web service or a mobile app is to balance between:
Following the standard procedure.
Tweaking it to make the application unique and authentic.
We apply our extensive expertise to create an excellent design for Android and iOS applications making you have a smooth experience.
On the other hand, defining the intention and goals of your users is part of our UX development process. Contrary to common knowledge, user research is not a lengthy and expensive activity. After we conduct the user research, we do not waste valuable time on features that users do not really need. Instead, we focus on raising the satisfaction rate.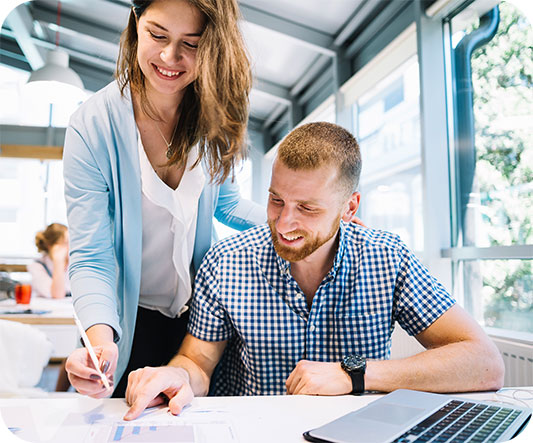 Services
User interface and user experience like you have never practiced it
As an outstanding website development company, we provide you with the following combination of techniques for user research:
Surveys and questionnaires: to rapidly collect quantitative and qualitative data about user satisfaction metrics and pain points.
Deep user interviews: to find out how and when they use certain functionalities.
Usability testing: to set up the heuristic of your products and obtain highlights and insights from your users.
Analytics review: to understand how your users see and use the final product.
Most user research techniques can be applied both online and offline, combined with other user interface design solutions.
Our innovative UX translates into higher user satisfaction and higher conversion rates. Along with specific UX solutions, we provide you with regular user experience (UX) audits that improve your user interaction and your product's looks.
That is to say, during a UX audit, we review the main user flows in your services and point out the usability problems to consider depending on their severity. After that, the issues are listed and prioritized depending on their urgency and the development efforts required to fix them. This is an easy way to correct most usability problems and avoid negative user comments.  
On the other hand, collecting data from your users is a cornerstone of a data-driven and user-centered design. If you are collecting data about your apps, on Digitizengrow, we have extensive experience as a user interface and user experience provider.
In addition, we can assist you to set up suitable analytics tools, define application performance metrics, adjust user flows according to KPIs, and collecting data.
With us, you will let your products grow improve and evolve based on real data. Or, most importantly, based on quantitative or qualitative research, combined with insights from users.
Contact
Let's

do

Working

togather!